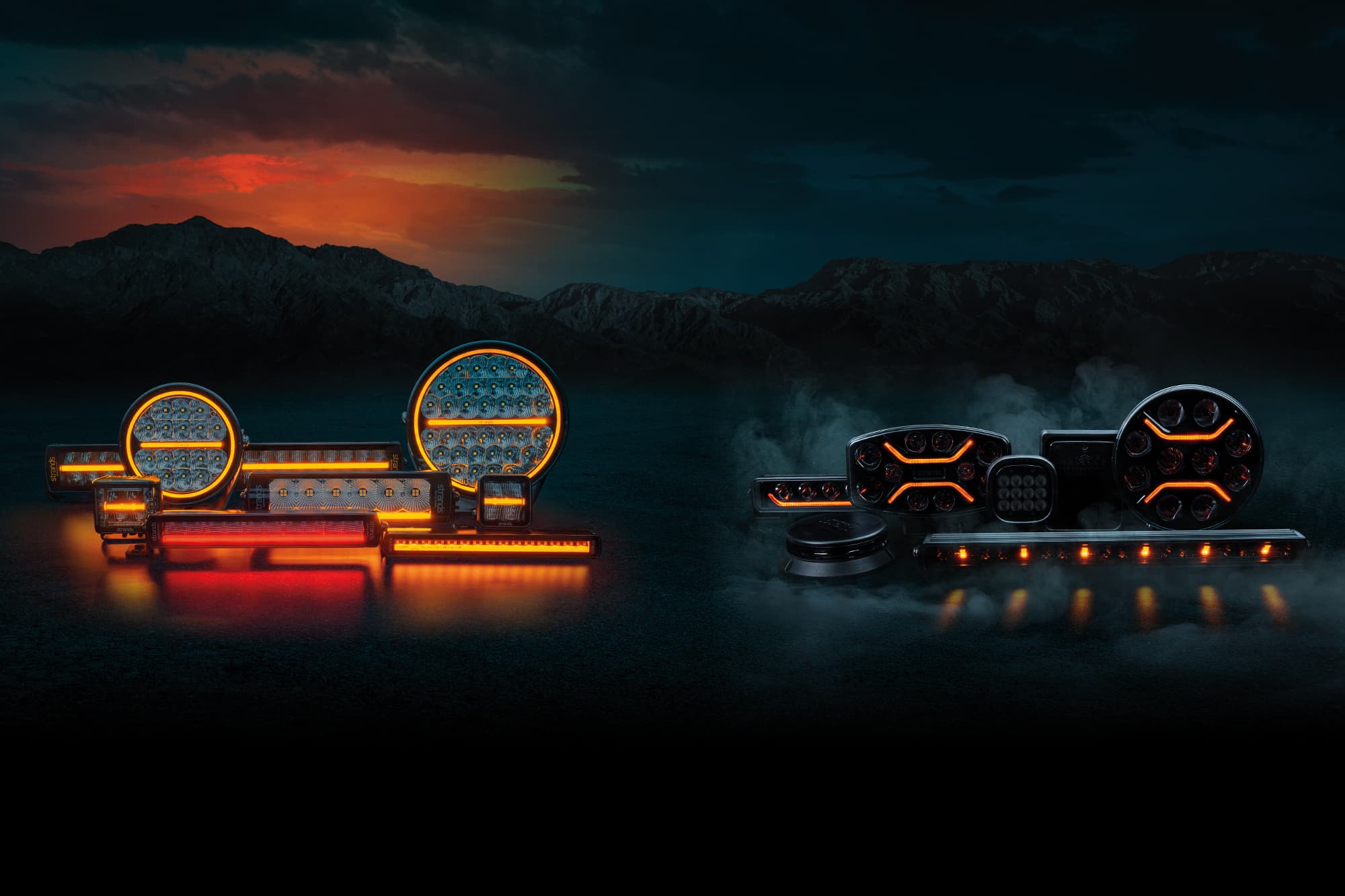 Driving lights
Powerful LED driving lights for all types of vehicles
POWERFUL DRIVING LIGHTS FOR ALL TYPES OF VEHICLES
We offer high-performing LED driving lights. Explore our broad range of driving lights for cars, trucks and other vehicles.
Read more
Showing 49–64 of 83 results
Showing 49–64 of 83 results
At Strands, we sell driving lights in LED, xenon and halogen. Explore our broad range of powerful driving lights for cars, trucks and other vehicles. Our driving lights can be mounted securely without much effort. Driving in the dark with poorly lit up car lights will no longer be an issue for you.
What are driving lights?
Driving lights are additional lights mounted on a vehicle to provide illumination beyond standard headlights. 
Driving lights can serve various purposes, such as improving visibility in low-light conditions, increasing the range of the vehicle´s headlights, and providing additional lighting for off-road driving. 
LED driving lights for cars, trucks, and other vehicles
Strands Lighting Division offers a wide range of LED driving lights that are reasonably priced and suitable for cars, trailers, trucks, work vehicles, and other vehicles. Strands provide the latest technology, design, sizes, and shapes, including round, rectangular, or oval. Strands Lighting Division delivers everything from driving lights with dual position lights in white and amber and plow driving lights with built-in heated lenses to innovative updates of classic driving lights. 
Do I need driving lights?
In many countries, driving lights are not required by law. Still, they can be helpful to any vehicle, especially for drivers who frequently drive in low-light or inclement weather conditions. They can help improve visibility, reduce glare from oncoming traffic, and enhance overall safety on the road. However, it is important to use them responsibly and avoid blinding other drivers or pedestrians with excessive glare. 
Stylish and practical LED driving lights for cars
Strands offers LED driving lights for trucks and cars which improves the driver's visibility when driving in the dark or during bad weather. It also improves the appearance of your car. An LED driving light is mounted on the front of the car and comes in different size and shapes. The most popular driving lights today are LED driving lights thanks to their durability, price and energy efficiency.
Powerful driving lights for trucks
Experience our powerful driving lights for optimal visibility in the dark. At Strands Lighting Division we have a wide range of LED driving lights which fit both cars and trucks. No matter which driving light you choose, you're always guaranteed a warranty that extends for at least three years.
What do I need in order to mount a driving light?
They are typically mounted on the front of the vehicle, bumper, grill, or roof.
We offer all the accessories you need to mount your various  driving lights. Driving light holders are available for those with two or three driving lights. The holder is placed behind the license plate. Wiring kits are connected from the lamps to the battery to get control current so that the driving lights are activated together with the high beam.
Top struts are available for two or three driving lights. The struts prevent the lights from changing position during vibrations. The universal frame fulfills the same function as the driving light holder but becomes more attractive when the driving light is mounted on an aluminum frame. We also offer complete driving light kits with everything that is needed for a complete installation.
If you are not confident about installing, it is best to seek help from a professional mechanic. But here are some general steps you can follow:
CHOOSE THE LOCATION:
Identify the ideal location where you want to mount your driving lights. It should be a place that provides the best possible visibility without obstructing other drivers' views. 
INSTALL THE BRACKETS:
Depending on the type of lights, you may need to install brackets to attach the lights to the vehicle. Most driving lights come with brackets, so follow the instructions to install them in the correct position. 
CONNECT THE WIRING:
Next, you will need to connect the wiring of the driving lights to your vehicle´s battery. Before starting, ensure that the lights are compatible with your vehicle's electrical system and that you have the necessary tools to complete the installation. 
ADJUST THE ANGLE:
After mounting the lights, you may need to adjust the angle to aim the lights correctly. Make sure the lights are pointing in the right direction for optimal visibility. 
TEST THE LIGHTS:
Once you have mounted and aimed the driving lights, test them to ensure they work correctly. 
What are the different types of lights?
There are several types of driving lights available for use in vehicles. When choosing a driving light, it is essential to consider factors such as the intended use of the lights, the cost, and any legal restrictions or regulations in your country. Driving lights can, for example, be powered by LED, halogen, or HID lights.
LED driving lights:
LED (Light Emitting Diode) driving lights are auxiliary lighting systems commonly used on vehicles to improve visibility while driving. LED driving lights are highly efficient and long-lasting, making them an attractive option for drivers who want high-performance lighting without frequent bulb replacements. One of the key advantages of LED driving lights is their energy efficiency. They use significantly less power to produce the same amount of illumination as traditional halogen or HID lights. 
LED driving lights are also highly durable and resistant to vibration and shock. This makes them ideal for use in off-road or other challenging driving conditions where the vehicle may be subjected to rough terrain or other hazards. LED driving lights are also highly resistant to environmental conditions, making them well-suited for rainy, snowy, or dusty weather. 
Strands Lighting Divisions LED driving lights are designed in various shapes and sizes, making it easy to customize and meet the driver's specific needs. LED driving lights are also highly attractive because of the colors and patterns, making it easy to create a unique, modern, and eye-catching look on the vehicle.
Halogen driving lights
Halogen driving lights are a popular driving light used in vehicles for many years. Halogen lights are incandescent bulbs that use tungsten filaments to produce light. The filament is encased in a bulb filled with halogen gas, which helps to increase the bulb's lifespan and improve its performance. 
One of the primary advantages of halogen driving lights is their affordability. Halogen driving lights are much less expensive than many other types of auxiliary lighting and are widely available and easy to install, which makes them a convenient option for many drivers.
HID lights:
HID (High-Intensity Discharge) driving lights are a driving light that has become increasingly popular in recent years. HID lights use a gas-filled bulb to produce a bright, intense beam of light much brighter than traditional halogen bulbs. HID lights are also known as xenon lights because they use Xenon gas to create the arc that produces the light. 
HID lights are a powerful and durable option for drivers who need bright, reliable lighting in low-light conditions. While they are more expansive than traditional bulbs, their long lifespan and high performance make them a popular choice for many drivers. 
Which beam pattern should I go for?
Driving lights come in different beam patterns, and choosing the correct beam pattern for your lights is essential based on your driving needs and the conditions you will be driving in. Here are some beam patterns for driving lights: 
Spot beam:
A narrow, focused beam pattern that produces a long, narrow light. Spot beams are ideal for long-range illumination and can reach far ahead of the vehicle. 
Flood beam:
A wide beam pattern provides a broader light spread. Flood beams illuminate wider areas, such as the sides of a road or trail. 
Combo beam:
A combination of both spot and flood beam patterns. Combo beams provide the best of both worlds and are ideal for off-road and extreme terrain driving. 
What is the difference between driving lights and headlights?
Driving lights and headlights serve different purposes, even though they are both used to provide illumination while driving. 
Driving lights are auxiliary lights mounted on the front of the vehicle and are used to supplement the vehicle´s headlights. They are typically smaller and more focused than headlights and are designed to provide extra light in certain situations, such as when driving in fog, rain, or other low-light conditions. 
On the other hand, headlights are the primary illumination source for a vehicle and are required by law in all countries. They are designed to provide adequate lighting to see the road ahead and to make the vehicle visible to other drivers. 
Both driving lights and headlights are typically mounted on the front of the vehicle and come in different shapes and sizes, including round, rectangular, or oval. 
Which driving light is the best?
Strands Lighting Division´s driving lights deliver high quality, are powerful, and have a long service life. When you buy driving lights, it is essential to consider the context in which the lights will be used. Small round driving lights may be best if you primarily drive a vehicle in town. But more extensive and powerful driving lights may be required if you often drive a truck on dark roads or in rugged terrain. It simply depends on how much extra light you need and what purpose you will use it for. 
AMBASSADOR:
A powerful driving light for you who demand the absolute best beam pattern. Express your personality with the dual position light and choose between amber or white. 
SIBERIA NIGHT RANGER:
Provides a driving experience that does not leave the driver untouched. Perfect for varied driving – both on motorways, country roads, and forest roads. It comes with a dual-position light that gives you an outstanding light effect and a stunning appearance. 
DARK KNIGHT INTENSE:
Creates a beam pattern with an intensity far higher than standard. The extremely slim design – with a depth of only 70 mm – allows it to fit on almost any vehicle in need of driving lights. See and enjoy the unique position light. Smooth startup effect where the light slowly increases its intensity before reaching total capacity. Comes with a dual-position light function. Choose between white and amber.