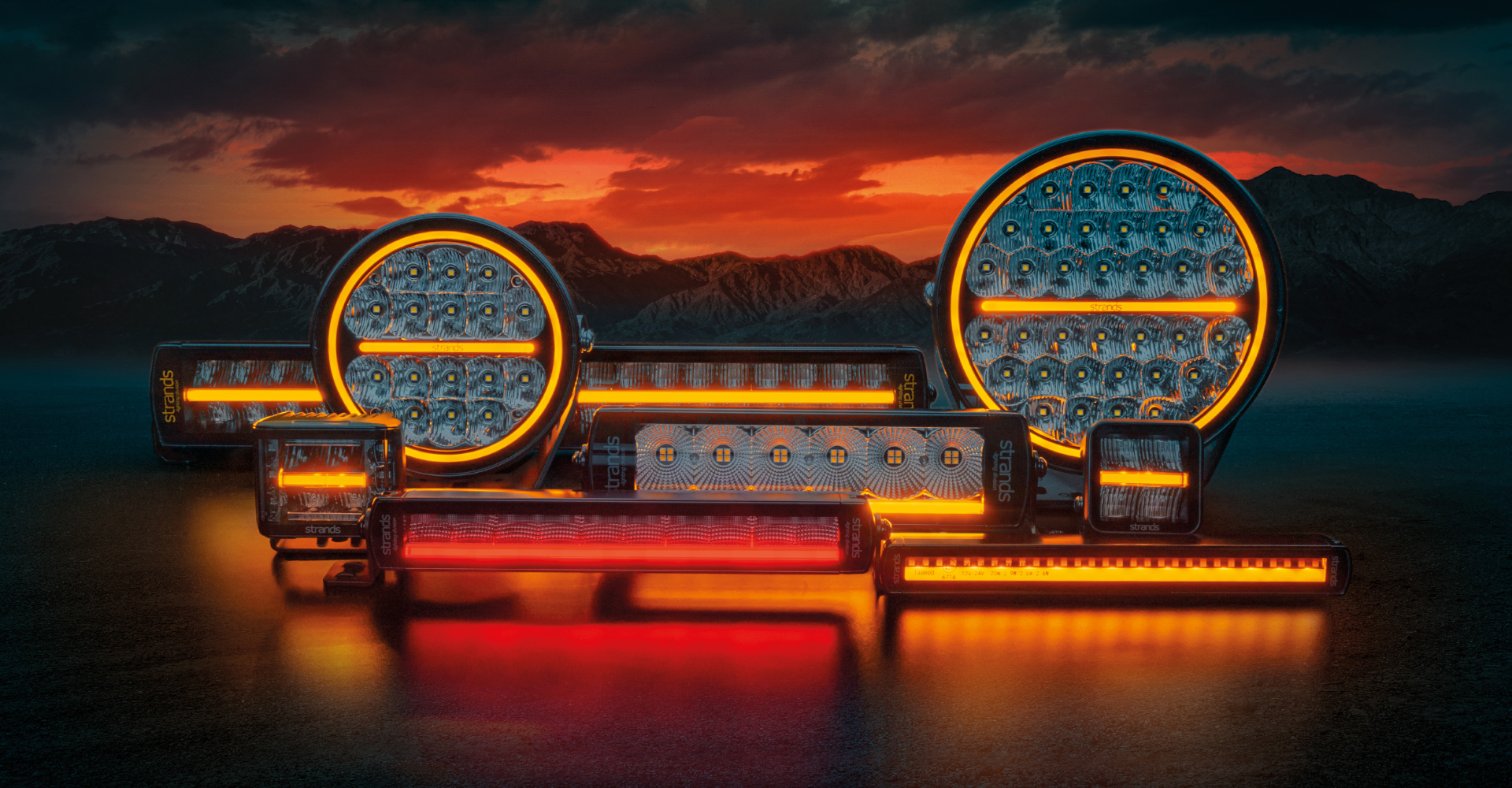 Strands Lighting Division
SIBERIA NG SR 38″
Reinventing innovation. Siberia Night Guard is developed for hard work challenges. You can now fit all your lighting needs into one single lamp. An extremely powerful warning light that also provides an unbeatable high beam. Embrace the simplicity and give yourself a night guard with the highest level of reliability. Multifunctional light providing safety in all weathers and in the darkest of darkness.
Type of Lamp

LED

PCS LED´s

36

Voltage (V DC)

9-35V DC

Theoretical effect (w) 12V

180

Theoretical effect (w) 24V

180

Consumption (w) 12V

107,8

Consumption (w) 24V

107,8

Functions

High beam, dual position light, warning light

Theoretical lumen

14400

Actual lumen

5867

1 LUX @ m

452

Kelvin

6000

IP-class

67/69K

Colour housing

Black

Colour lens

Clear

Colour LED´s

White and amber

Beam pattern

Combo

Position light

Yes, amber and white

Connection

Cable

Cable length (mm)

2500

Material bracket

Stainless steel

Material housing/chassi

Aluminium

Material lens

Polycarbonate

Length (mm)

963,6

Depth (mm)

55,5

Height (mm)

45

Height including bracket (mm)

65

Operating temperature

-30°C - +65°C

ADR-approved

No

E-approved

Yes

According to regulation

ECE R112, R7,R65

Reference number

45

EMC

ECE R10
Black cable

- (Negative)

Red cable

+ Positive

Yellow cable

Amber position light

Grey cable

White Position light

Yellow/green cable

Flash light (green cable)

Mounting details included

Screws, washers, bolts
Length inner box (mm)

1085

Height inner box (mm)

97

Depth inner box (mm)

100

Weight (kg)

3,7

PCS in master carton

4

Length master carton (mm)

1105

Height master carton (mm)

210

Width master carton (mm)

225

Weight master carton (kg)

24

Taric code

85122000

EAN

7323030187071
COVER ALL NEEDS
Night Guard comes in five sizes to cover all needs. All models are E-approved as warning light and driving light. Mount it in the front or on the roof of your vehicle.
Perfect for trucks and excavators, small and large transport vehicles. Mount several of the smaller 12 "size on your truck – or mount the larger 38" on the truck's roof. The LED bar design is easy to install and is not as space-consuming as warning light bars and driving lights.
WARNING LIGHT WITH DRIVING LIGHT FUNCTION
The lightheads that run along the top provides an extremely powerful and effective warning light function. At the same time, Night Guard also covers the need for driving lights and delivers an optimized, massive light beam that combines length and width. The multifunction simplifies installation, eliminates the need to mount several driving lights and warning lights, while helping your vehicle to look smoother from all angles.
Night Guard gives you a new way of thinking about how vehicle lighting fits into working life along the road – provides complete security – and simplifies work considerably. Developed for and together with the road's heroes, professional drivers with total insight into the real challenges of road work.
DUAL POSITION LIGHT
Let the characteristic Siberia position light, which runs along the middle part of the lamp, suit your personal style. Amber or white light. The choice is yours. Change color when you want. Night Guard is an all-in-one solution that gives you the light and the design you are looking for.