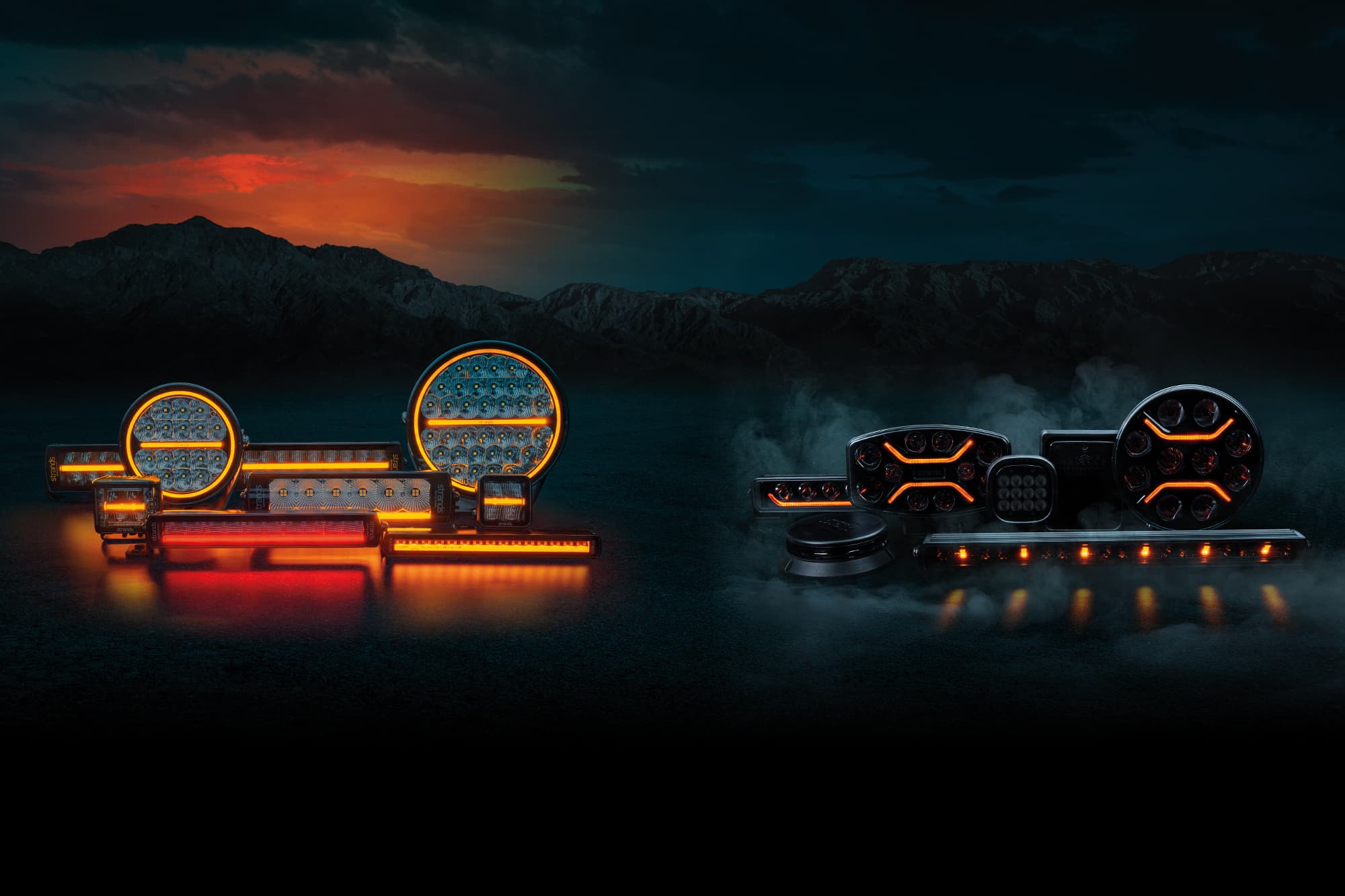 Automotive lighting
Automotive lighting
Strands Lighting Division manufactures and sells automotive lighting designed for all types of vehicles. We are Europe's fastest growing brand in vehicle lighting and today our products are sold in more than 30 different countries. We develop and design automotive lighting according to your needs in order to make your driving safer.
Read more
Showing 1505–1520 of 1551 results
Showing 1505–1520 of 1551 results
Wide range of automotive lighting
Strands Lighting Division are passionate about developing the world's finest automotive lighting and truck lights. We ensure the quality of each product we put out on the market. You can be sure to find vehicle lighting that fits your vehicle no matter if you're the owner of a car, larger working vehicle or truck. Our automotive lighting comes with a warranty that extends for at least 3 years. Our wide range of automotive lighting consists of mounting accessories, light signs, work lights, position lights, conversion kits, tail lights, driving lights and warning lights. 
Truck lights for large vehicles
Strands Lighting Division has a market leading range of powerful truck lights and accessories. We always ensure that each truck light meet our demands for premium quality. All of Strands' truck lights are designed to make the truck driver's job safer and more enjoyable when it's dark. Our ambassadors often test our vehicle lighting products and provide us with crucial feedback based on real life experience. Strands' premium line of truck lights are developed in Sweden backed by several years of experience in the automotive light industry.
High performing vehicle lighting
Strands' automotive lighting & headlights comes with a truckload of great advantages. Our vehicle lighting greatly increases visibility when it's dark outside which helps drivers navigate more safely. It's also easier to perform tasks during the dark hours of the day because of less traffic. With Strands' vehicle lighting, you can be sure to drive safely in the dark regardless of road condition or weather.
What are the different types of automotive lighting?
Automotive lighting plays a crucial role in ensuring safety on the roads. It allows drivers to see and be seen, especially during low-light conditions or adverse weather. There are various types of automotive lighting, each serving a specific purpose. Here are some of the different kinds of automotive lighting:
Headlights
Headlights are the primary lighting source for vehicles, illuminating the road ahead and improving visibility. They come in different forms, including halogen, high-intensity discharge (HID), and light-emitting diode (LED) headlight models. HID and LED headlights are known for their brighter and longer-lasting illumination.
Fog Lights
Fog lights are designed to cut through dense fog, mist, or other adverse weather conditions that reduce visibility. They emit a wide, low beam of light that stays closer to the ground, reducing glare and improving visibility in foggy conditions.
Daytime Running Lights (DRLs)
DRLs are low-intensity lights that automatically turn on when the vehicle is running. They improve visibility during the daytime, making it easier for other drivers to see your vehicle. DRLs enhance safety by reducing the chances of accidents due to poor visibility.
Brake Lights
Brake lights indicate when a vehicle is slowing down or stopping. They alert the drivers behind you to your intentions, helping prevent rear-end collisions. Typically, brake lights are activated when the driver applies the brakes or when the vehicle's anti-lock braking system (ABS) engages.
Turn Signals
Turn signals, also known as blinkers or turn indicators, notify other drivers when you plan to change lanes or make a turn. They ensure that other drivers know your intentions, reducing the risk of accidents and promoting safe driving.
Interior Lighting
Interior lighting refers to the lights inside the vehicle cabin, such as the dome and reading lights. These lights provide illumination for passengers, allowing them to see inside the vehicle and perform tasks comfortably.
Emergency Warning Lights
Emergency warning lights are used by emergency vehicles, such as police cars, ambulances, and fire trucks. These lights are typically bright and flashing, alerting other drivers to the presence of an emergency vehicle.
Auxiliary Lights
Auxiliary lights are additional lighting fixtures that can be added to a vehicle for specific purposes. They include spotlights, side lamps, floodlights, and off-road lights. Off-road enthusiasts often use these lights or for specific work purposes, such as construction or towing.
License Plate Lights
License plate lights illuminate the license plate on a vehicle, making it visible at night or in low-light conditions. These lights are essential for law enforcement purposes and maintaining road safety.
Interior Ambient Lighting
Interior ambient lighting enhances the aesthetic appeal of a vehicle's interior. It includes subtle lighting features that create a pleasant and inviting atmosphere inside the vehicle.
What safety features do automotive lights provide?
Automotive lights are an essential safety feature in vehicles, providing various functions that ensure visibility and safety on the road. Here are some important safety features that automotive lights offer:
Increased visibility
One of the primary purposes of automotive lights is to enhance a vehicle's visibility further, especially during low light conditions, such as at night or in adverse weather conditions like fog, rain, or snow. Headlights, taillights, and fog lights are designed to provide adequate illumination for the driver to see the road ahead and for other drivers to spot the vehicle.
Signaling and communication
Automotive lights also serve as a means of communication between drivers, pedestrians, and other road users. Turn signals or indicators located at the front and rear of the vehicle allow drivers to indicate their intention to change lanes or make a turn. Brake lights indicate when a vehicle is slowing down or coming to a stop, alerting other drivers behind to react accordingly.
Emergency warnings
Hazard lights, also known as emergency flashers or warning lights, are designed to be highly visible and quickly grab the attention of other drivers. When activated, hazard lights indicate that the vehicle is distressed or stopped in an unsafe location, alerting other drivers to proceed cautiously or give way.
These features play a crucial role in road safety. They enhance visibility, communicate intentions, and alert other road users to potential hazards. From headlights and taillights to turn signals and fog lights, each lighting feature promotes explicitly safer driving. It is important for drivers to understand the function and proper use of these lighting features to ensure their safety and the safety of others on the road. 
How does LED lighting compare to traditional automotive lighting?
LED lighting has many advantages over traditional lighting systems. Here's how LED lighting compares to traditional automotive lighting:
Energy Efficiency
LED lights are highly energy-efficient and consume significantly less power than traditional lighting. They convert almost all the electrical energy into light, while traditional lights waste a significant portion of energy as heat. This increased efficiency translates to fuel savings in vehicles, making LED lighting more environmentally friendly and cost-effective.
Longevity
LED lights have a longer lifespan compared to traditional lights. On average, LED lights can last up to 25 times longer than halogen bulbs, reducing the need for frequent replacements. This extended lifespan saves money on maintenance costs and reduces waste from discarded light bulbs.
Brightness and Visibility
LED lights produce a brighter and more intense output than traditional lighting systems. This enhanced brightness improves visibility for drivers, especially during nighttime and inclement weather conditions. LED lights provide a focused beam of light, reducing glare for oncoming traffic and enhancing safety on the road.
Versatility
LED lights offer flexibility in design, function, and placement due to their compact size and shape. This allows automotive manufacturers to incorporate LED lighting in various areas, such as headlights, taillights, daytime running lights, and interior lighting. LED lights can be arranged in different patterns, enhancing the vehicle's aesthetics and visibility.
Quick Response Time
LED lights have a faster response time compared to traditional lighting. They illuminate instantly, allowing other drivers to react quickly to the presence of a vehicle. This quick response time is especially crucial in emergencies, reducing the risk of accidents and increasing overall road safety.
Durability
LED lights are more durable and resistant to vibrations and shocks than traditional ones. This makes them ideal for vehicle use, as they are less likely to fail or break due to rough road conditions or accidents. LED lights are also unaffected by frequent on/off cycling, making them suitable for applications requiring frequent switching.
Eco-Friendly
LED lights are more environmentally friendly compared to traditional lights. They do not contain harmful substances such as mercury, making them safer to use and dispose of. LED lights also generate less heat, reducing the risk of fire hazards. Additionally, their energy efficiency contributes to lower carbon emissions, making LED lighting a greener choice for vehicles.