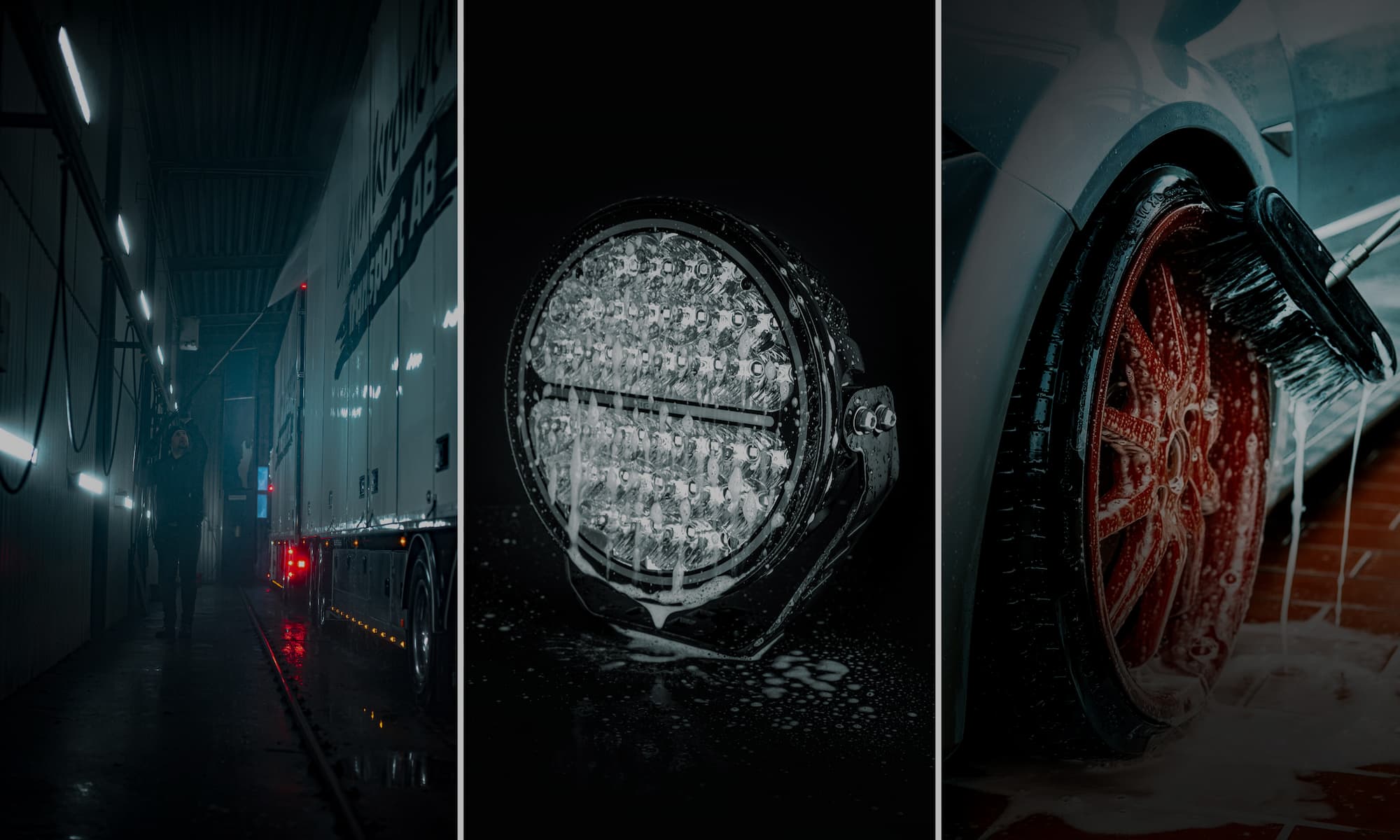 The seven most common mistakes when washing your driving lights
Make your driving lights last longer and perform better with gentle maintenance. Strands Lighting Division list the seven most common mistakes when cleaning your driving lights – and the tricks to avoid them.
01
RARELY WASHING
Are you waiting to wash your lighting a little too often? Don´t cheat. Dirt that builds up and gets stuck speeds up the aging process significantly – the lens becomes milky, and the beam pattern deteriorates significantly, which leads to reduced road safety. Therefore, clean your driving light every time you wash your vehicle. A routine that will pay off in the long run and increase your road safety.
02
NO RINSING
Dirt that remains on the lamp's surface can be abrasive when you clean it with a sponge. This can cause unnecessary scratches that dull the lens and worsen the beam pattern. Therefore, make sure to rinse the lamp thoroughly before you start.
03
TOO HARD PRESSURE
Use common sense when washing your lights with high-pressure cleaners. Don´t stand too close, and ensure that the pressure isn´t too intense that it risks damaging the lamps.
04
THE BACK OF THE LAMP IS FORGOTTEN
The dirt on the back of the lamp housing may not be as visually apparent as the front – but it can easily come into nooks and crannies, build up in layers and cause damage. Essential functions that contribute to the lamp´s durability are often located on the back. One example is the so-called "breathers," breathing valves that keep the lamp´s interior climate in perfect condition. To guarantee continued function with open valves, regular cleaning is recommended.
05
DRYING DETERGENT
Use gentle and recommended detergents – but avoid washing-up liquid. It can dry out the lamp, making it less resistant to stress.
06
OLD SPONGE
Make sure your sponge is completely clean and free of sand and pebbles. A sponge that looks clean may contain dirt that scratches the driving light unnecessarily.
07
WASH IN SUNLIGHT
Do you like washing your car and lighting in the sun's heat? Think again. Degreasing or other detergents intended for cleaning can damage the lamp if the surface is hot.
TIP...
Strands Lighting Division has chosen to focus on lighting with an infinity design, which means that the lamp has no frame and the lens extends to the edges. The solution is dirt-resistant, makes washing more accessible, and significantly increases the life of the light.