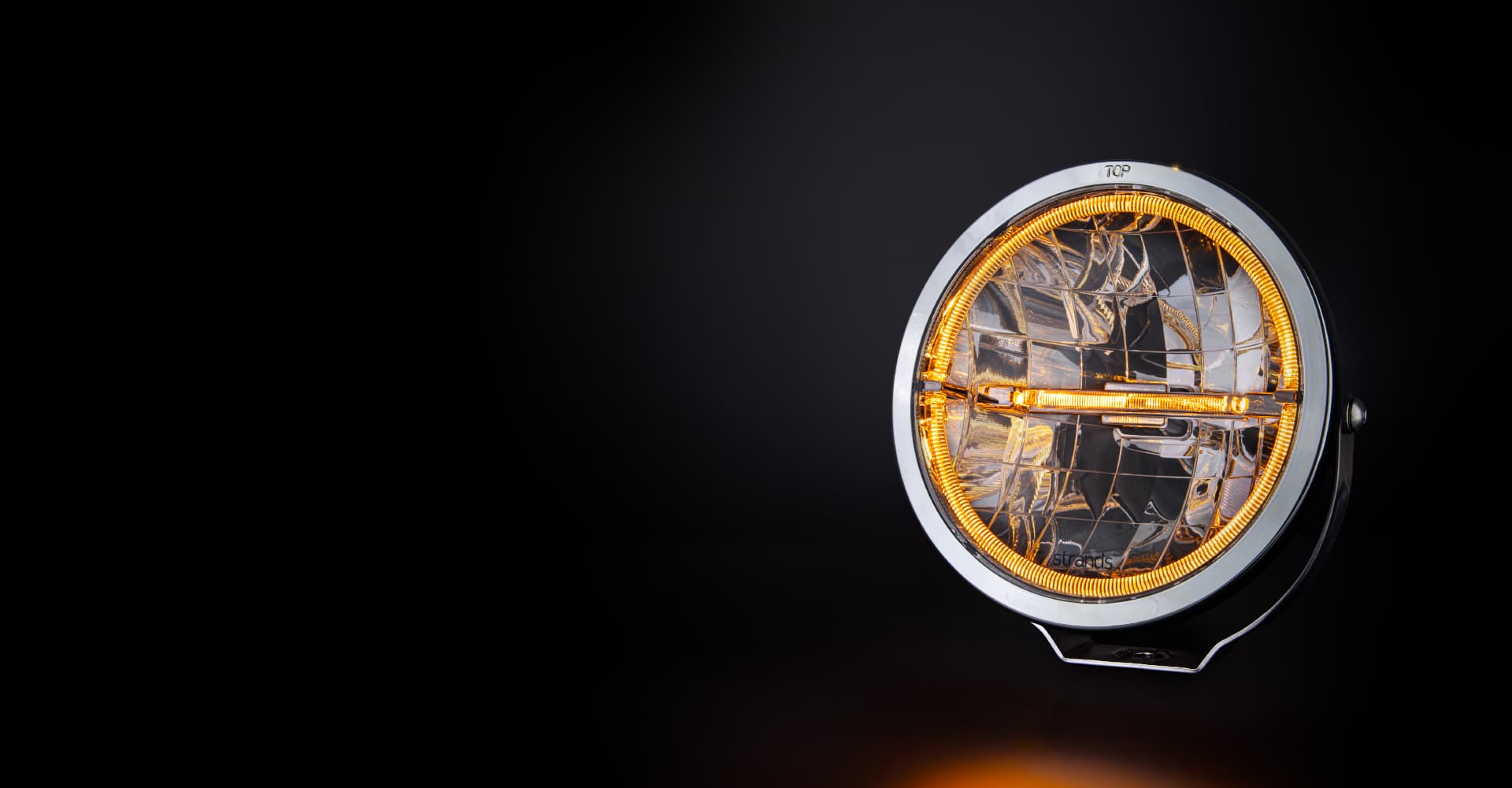 Strands Lighting Division
AMBASSADOR 9″ DRIVING LIGHT LED
Ambassador, our next flagship driving light, is as the namensuggests, very powerful. It is developed for you who demand the abslolute best light beam – it exceeds everything you have seen and literally turns night into day on a long distance. The LED-chip is customized to meet the highest standard possible. With Ambassador you get uniqe components, which you can not find anywhere else. It is designed in Sweden and assembled in Europe to ensure the perfect light experience.
Type of Lamp

LED

PCS LED´s

8

Voltage (V DC)

10-32V DC

Consumption (w) 12V

Driving light: 70,2, position light: 1,5

Consumption (w) 24V

57,2, position light: 1,5

Theoretical lumen

5535

Actual lumen

4040

Kelvin

6250

IP-class

68

Color housing

Black

Color lens

Clear

Color LED´s

White/Amber

Beam pattern

Spot

Position light

Yes, amber and white

Connection

Cable

Cable length (mm)

3000

Material bracket

Steel

Material housing/chassi

Aluminium

Material lens

Polycarbonate

Depth (mm)

132

Height including bracket (mm)

245

Diameter (mm)

230,5

Operating temperature

-40°C - +45°C

ADR-approved

No

E-approved

No

EMC

ECE R10
Black cable

White position light

Red cable

+ Positive

White cable

- Ground

Yellow cable

Amber position light

Mounting details included

Top stabilizer (stainless steel)
Length inner box (mm)

140

Height inner box (mm)

280

Depth inner box (mm)

280

Weight (kg)

2,4

PCS in master carton

3

Length master carton (mm)

420

Height master carton (mm)

320

Width master carton (mm)

340

Weight master carton (kg)

7,71

Country of origin

Poland

Taric code

85122000
EXPRESS YOUR PERSONALITY
The position light has a duo function, choose between white or orange.
RESISTANT TO MOISTURE
At the back are so-called "breathers", breathing valves from Nitto Denko. A function that keeps the lamp's indoor climate in the best condition. Moisture is transported away from the lamp, but no moisture enters. * When painting a house, the lamp valves need to be protected and covered to maintain the breathing function.